Skip navigation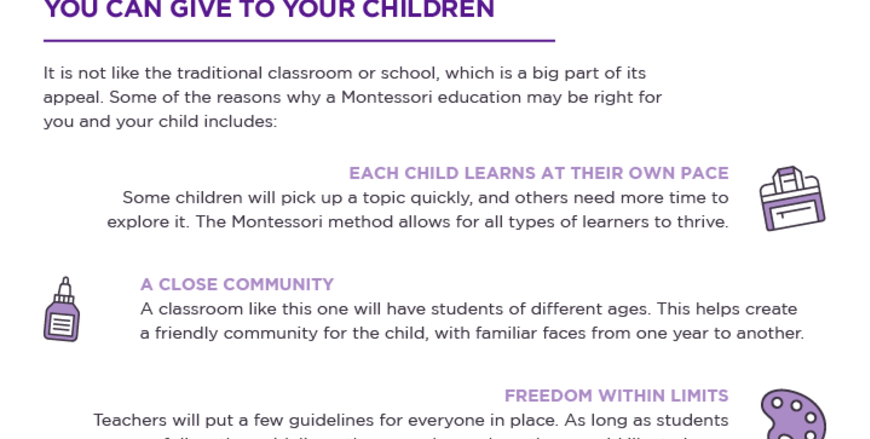 Why You Should Choose a Montessori School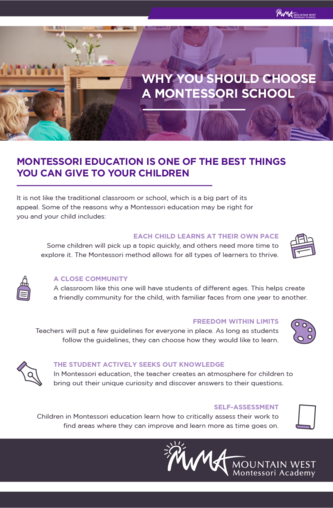 Montessori Education is One of the Best Things You Can Give to Your Children
It is not like the traditional classroom or school, which is a big part of its appeal. Some of the reasons why a Montessori education may be right for you and your child includes:
Each child learns at their own pace: Every child is unique. Some will pick up a topic quickly, no matter what that topic is, and others need more time to explore and understand it. The Montessori method allows for both types of learners to thrive.
A close community: A classroom like this one will have students of different ages. They are typically three years apart. This helps create a friendly community for the child, with familiar faces from one year to another.
Freedom within limits: The teachers will put a few guidelines in place that everyone needs to follow. As long as the student participates and sticks with those guidelines, they have the freedom to choose what they want to do and how they would like to learn.
The student actively seeks out knowledge: It is the teacher's job in Montessori education to create an atmosphere that gives the child freedom to answer their questions and pursue things that bring out their unique curiosity. This helps the child to become enamored with learning.
Self-assessment: Children who go through this kind of education learn how to critically assess their work to find areas where they can improve and learn more as time goes on.
Choose Mountain West Montessori Academy Today!
Montessori education is an excellent choice for your family. At Mountain West Montessori Academy, you will feel like part of the family while giving your child the education they deserve.
Contact us today to learn more about who we are and what we can provide to you!