Skip navigation
How Montessori Education Prepares Students Socially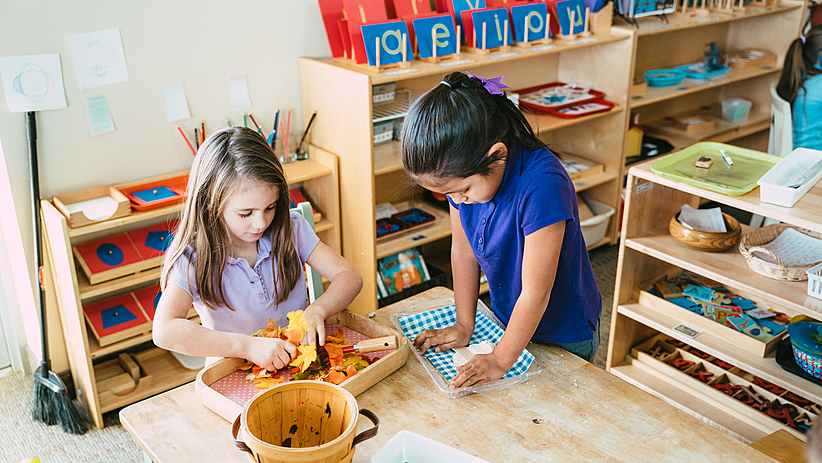 Social skills are more important than ever in today's world. At Mountain West Montessori Academy, we know how important it is for children to develop socially. Montessori education is uniquely positioned to provide children with opportunities to learn positive and effective social behaviors.
Secure Individuality Fosters Social Comfort
Montessori education is well-known to focus on individual pacing. This teaching philosophy helps students develop a strong sense of self and allows them to feel comfortable as unique individuals. Feelings of comfort and confidence are immensely beneficial for children as they approach social dynamics. As Iman Et Al found in their 2017 study, "Children educated with Montessori Method were more successful in the achievement of social, behavioral skills peer relationships, personal behavior, prosocial behavior while their physical and verbal aggression behavior was significantly lower."
Natural Stages of Development Encourage Collaboration
At Mountain West Montessori Academy, we encourage your child to develop naturally. As children reach primary school age, they enter a new stage of development and naturally begin to desire more collaboration. Montessori education offers children a unique opportunity to fulfill social roles since children are not separated by age. Both older and younger children learn a wide variety of social skills as they are able to take on more roles than the traditional teacher-led classroom allows.
Focus on Courtesy and Social Graces
Montessori education places high value on actively teaching politeness, respect, and courtesy. Each day children are taught how to give proper greetings, the importance of kind words like please and thank you, and how to speak and listen effectively. These lessons help children learn to respect everyone, regardless of background. As Lillard found in her 2017 study, "Montessori children fared better on measures of academic achievement, social understanding, and mastery orientation, and they also reported relatively more liking of scholastic tasks."
We are committed to the success of your child, both socially and academically. Call Mountain West Montessori Academy today to begin enrollment for your child!